Prayer at Valley Forge
by Friberg Fine Art – Arnold Friberg
Arnold Friberg painted "The Prayer at Valley Forge" to celebrate our country's bicentennial in 1976. Since then, Arnold Friberg's now famous painting has become an important part of American history, reminding us of the days our country hung in the balance. Many of you are familiar with Arnold Friberg's painting, but do you know the story behind the painting?
It was during the cold and long winter of 1777-78 at Valley Forge that General George Washington sought God's help on his knees . . .
---
The Prayer at Valley Forge is available in many sizes and styles at Amazon.com (below are just a few)

---
The Eye Witness Testimony of Isaac Potts . . .
This story is well documented in the historical records. Isaac Potts, 26 years old, was a resident of Valley Forge, and as a Quaker was opposed to the war. He supervised the grinding of the grain which George Washington ordered the neighboring farmers to bring to his army. The fullest account of Potts' testimony is in the "Diary and Remembrances" of Rev. Nathaniel Randolph Snowden, a Presbyterian minister and a Princeton graduate (Original Manuscript at the Historical Society of Pennsylvania; Call no. PHi.Am.1561-1568).
"I was riding with him (Mr. Potts) near Valley Forge, where the army lay during the war of the Revolution. Mr. Potts was a Senator in our state and a Whig. I told him I was agreeably surprised to find him a friend to his country as the Quakers were mostly Tories. He said, "It was so and I was a rank Tory once, for I never believed that America could proceed against Great Britain whose fleets and armies covered the land and ocean. But something very extraordinary converted me to the good faith."
"What was that?" I inquired. "Do you see that woods, and that plain?" It was about a quarter of a mile from the place we were riding. "There," said he, "laid the army of Washington. It was a most distressing time of ye war, and all were for giving up the ship but that one good man. In that woods," pointing to a close in view, "I heard a plaintive sound, as of a man at prayer. I tied my horse to a sapling and went quietly into the woods and to my astonishment I saw the great George Washington on his knees alone, with his sword on one side and his cocked hat on the other. He was at Prayer to the God of the Armies, beseeching to interpose with his Divine aid, as it was ye Crisis and the cause of the country, of humanity, and of the world.

"Such a prayer I never heard from the lips of man. I left him alone praying. I went home and told my wife, 'I saw a sight and heard today what I never saw or heard before', and just related to her what I had seen and heard and observed. We never thought a man could be a soldier and a Christian, but if there is one in the world, it is Washington. We thought it was the cause of God, and America could prevail."
---
The respect for George Washington was so great that the first proposal for his new title, recommended by John Adams, was, "His Glorious Highness, The President of the United States and Glorious Protector of Our Liberties." Congressman William McClay from Pennsylvania basically said, "What's with Adams? Doesn't he understand what we fought this thing for? It's to get rid of all of that stuff." But this story illustrates the high regard congress had for Washington.
---
Dr. James Dobson, founder of Focus on the Family, said about George Washington, "The reason that I consider him to be such a hero is . . . almost no one in human experience gives up power willingly.  Power is intoxicating and once you have it you don't want to let it go and [Washington] could have been king. He could have been monarch for the rest of his life and passed it on to his heirs, but he served two terms as president and would not accept a third term. You talk about greatness. That really speaks to me."
The world was watching during this moment of when George Washington said he would give up his power after two terms as President of the United States. King George of England said, "If he gives up his power, as he said he would, he will be the greatest man in the world."  And George Washington did it without a moments hesitation. Washington said in one of his letters, "I'd rather be back on my farm in Virginia than be emperor of the world."
---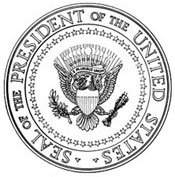 Thanksgiving Proclamation of 1789 – President George Washington
"WHEREAS it is the duty of all nations to acknowledge the providence of Almighty God, to obey His will, to be grateful for His benefits, and humbly to implore His protection and favor; and Whereas both Houses of Congress have, by their joint committee, requested me "to recommend to the people of the United States a DAY OF PUBLIC THANKSGIVING and PRAYER, to be observed by acknowledging with grateful hearts the many and signal favors of Almighty God, especially by affording them an opportunity peaceably to establish a form of government for their safety and happiness:
"NOW THEREFORE, I do recommend and assign THURSDAY, the TWENTY-SIXTH DAY of NOVEMBER next, to be devoted by the people of these States to the service of that great and glorious Being who is the beneficent author of all the good that was, that is, or that will be; that we may then all unite in rendering unto Him our sincere and humble thanks for His kind care and protection of the people of this country previous to their becoming a nation; for the signal and manifold mercies and the favorable interpositions of His providence in the course and conclusion of the late war; for the great degree of tranquility, union, and plenty which we have since enjoyed; for the peaceable and rational manner in which we have been enable to establish Constitutions of government for our safety and happiness, and particularly the national one now lately instituted;- for the civil and religious liberty with which we are blessed, and the means we have of acquiring and diffusing useful knowledge;- and, in general, for all the great and various favors which He has been pleased to confer upon us.
"And also, that we may then unite in most humbly offering our prayers and supplications to the great Lord and Ruler of Nations and beseech Him to pardon our national and other transgressions; – to enable us all, whether in public or private stations, to perform our several and relative duties properly and punctually; to render our National Government a blessing to all the people by constantly being a Government of wise, just, and constitutional laws, discreetly and faithfully executed and obeyed; to protect and guide all sovereigns and nations (especially such as have shown kindness unto us); and to bless them with good governments, peace, and concord; to promote the knowledge and practice of true religion and virtue, and the increase of science among them and us; and, generally to grant unto all mankind such a degree of temporal prosperity as he alone knows to be best.
"GIVEN under my hand, at the city of New York, the third day of October, in the year of our Lord, one thousand seven hundred and eighty-nine."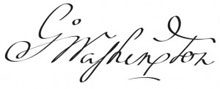 Signed: George Washington
Source: The Massachusetts Centinnel, Wednesday, October 14, 1789