New Testament Crossword Puzzle
Have fun with this New Testament word search puzzle.
All names of New Testament books can be found up, down, forward, backward, diagonally in the grid below. Below the puzzle are the 27 books of the New Testament you are looking for to cross off.
Special Note: This puzzle is copyrighted by Lisa Coffey and is used with special permission. Please do not distribute or use in any way without obtaining use permission from her first.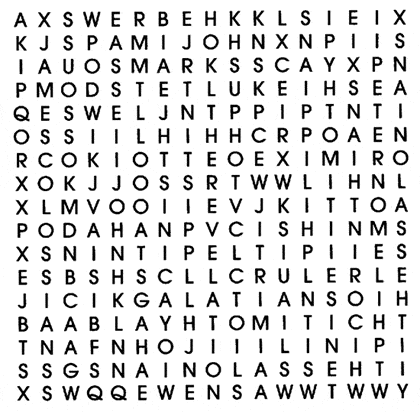 Insights on John – Chuck Swindoll
Hardcover Book:  $20.84 (last checked)
Insights on John is part of the 15-volume Swindoll's Living Insights New Testament Commentary series. This newly revised and expanded edition draws on Gold Medallion Award–winner Chuck Swindoll's 50 years of experience with studying and preaching God's Word. His deep insight, signature easygoing style, and humor bring a warmth and practical accessibility not often found in commentaries.
MATTHEW
MARK
LUKE
JOHN
ACTS
ROMANS
I CORINTHIANS
II CORINTHIANS
GALATIANS
EPHESIANS
PHILIPPIANS
COLOSSIANS
I THESSALONIANS
II THESSALONIANS
I TIMOTHY
II TIMOTHY
TITUS
PHILEMON
HEBREWS
JAMES
I PETER
II PETER
I JOHN
II JOHN
III JOHN
JUDE
REVELATION